Concrete production of steel drum closed hoop
The closed hoops produced by our factory for a long time, the processing technology is produced according to the traditional processing technology, that is, the steel strip is cut into strips - rounded and rolled - stamped at both ends - spot welded tight ears - galvanized. The material cost is high, the number of users is large, the equipment is large, and it takes a long time. The factory leaders attach great importance to this. With the support of the factory leaders, the technical department organizes relevant technical personnel to open an analysis meeting, brainstorm and develop a kind of problem. The semi-automatic equipment, which integrates unwinding and rolling and rolling, can complete the rolling hooping process with one person operation, and the working efficiency is increased by three times, saving labor and time, greatly reducing the production cost.

Specific improvements to make a closed hoop are:

1. Replace the steel strip with a certain size of steel strip, which can reduce the material cost and save the process of cutting the strip.

2. Improve the closed hoop rolling machine. The original closed hoop rolling machine is rolled with a roller. It is very difficult to feed into the roller, and it is very unsafe, and the rolling is not well adjusted. The two sides of the closed hoop are easy to roll, and the rolled hoop is closed. There is always a section at both ends that is straight. The improved closed hoop mill is in three rolls, which is easy to adjust and safe. The method of use is as follows: the coil of a certain specification is directly unloaded into the closed hoop rolling machine, and the closed hoop of the round roll formed by the required diameter rolling into a spring shape is adjusted to have no straight ends at both ends.

3. The tire set with a cutting bucket hoop is connected with the cutting machine, and the barrel hoop rolled into a spring shape is placed in the tire, one end is abutted against the positioning device, and then cut into the required specifications by a cutting machine. Closed hoop. This eliminates the need for straight ends at the ends of the stamping.

4. Then, the stamped and formed tight ears are spot welded to the ends of the closed hoop.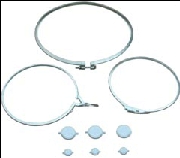 We can manufacture ABS Safety Helmet, HDPE Safety Helmet, Fiber Metal Helmet, Mining Safety Helmet,Welding Safety Helmet, Fire Safety Helmet, Cold-proof Safety Helmet and Bump Caps. Our capacity of safety helmet is 1,500,000 pcs per year,
P.P. or ABS shell, tough, lightweight, durable. Available with four-point or six-point adjustable suspension for shock-absorbing and rain trough prevents water from dropping down to the neck, rei nforced ribs on top provides the perfect impact protection. Slotted sides to accommodate accessories, such as face shields, ear muffs. Chin Strap not included.
Compliance: ANSI Z89.1, CE EN397 (More information if you need, please be free to contact us )
Safety Helmet
Safety Helmet,Construction Helmet,Working Safety Helmet,Industrial Safety Helmet
NINGBO COOLBEAN SAFETY SOLUTIONS CO.,LTD , http://www.nb-coolbeansafety.com